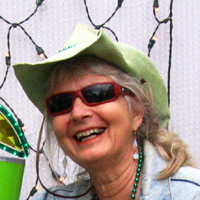 Come join EASY STREET in Paris, Texas
When?     Friday, July 14, 9:00 a.m.
Where?    The Love Pavilion, Paris, Texas
2025 S. Collegiate Dr., Paris, TX
What?     Easy Street Recumbents will be showing up with a van full of 'bents for a demo, a ride to Blossom and back on the Trail de Paris, followed by socializing back at the Pavilion with cold watermelon.  This is all to support the formation of a new 'bent riding club, The Eiffel Benders, brainchild of local 'bent enthusiast, Susan Barackman.
We would love to have your support!  You know how helpful it is for new 'bent riders to have experienced 'bent riders to talk to.  PLUS — it should be a lot of fun.
AND — this is the weekend of the Tour de Paris which, this year, includes the Paris Balloon and Music Festival!
Come prepared to spend the weekend!
What else to know?   I have blocked 5 rooms at two of the local hotels for Thursday and Friday nights.
Call:  The Days Inn Paris at 903-784-8164 or Paris Inn & Suites at 903-706-5303 and mention you want to rent a room out of the Easy Street block of rooms.  I don't know how long they will hold them for us, so think about doing it right away!
If you're not riding the Tour de Paris, but staying over, come hang out with us at our vendor booth the next morning.  Just another opportunity to spread that recumbent gospel!
And, WOW!    We have received SUCH enthusiastic support from the Lamar County Chamber of Commerce, the Paris Visitor & Convention Council, as well as local bike shop, Gear Down Bikes.  Looking forward to meeting all these great people when we get there!