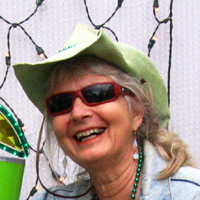 Dates: Friday, Nov. 3 – Sunday, Nov. 5
Register on Bike Reg.
Place: Kerrville-Schreiner Park
2385 Bandera Hwy, Kerrville, TX  78028
830-257-5392 or 830-257-7300
Click on this link:
http://www.kerrvilletx.gov/318/Kerrville-Schreiner-Park
The Vision:      See Mike's article on "Glamping" here.  We want to make Mike's vision happen.  You KNOW how he likes to throw a party!  And, we are hoping a group of our friendly recumbent riders (families, friends, upright riders are all welcome) will join us for a weekend of fun that includes socializing, eating, riding, and … well, we're working on other stuff!.
The Plan:         Easy Street sets up Operations Central in Midway Mini Cabins 17-18.  We have also rented the adjacent Group Dining Hall as a central socializing, eating, and gathering place for Saturday, 9 a.m. – 9 p.m.  Y'all call in to their reservations number, 830-257-5392 or 830-257-7300 (speak to Jackie if possible) and reserve a campsite, a mini-cabin, or an RV site nearby (and reservations appear to be wide open at the moment).  Our suggestions would be:
Campsites #24-44
Mini Cabins #19-23 (around the Dining Hall) or #9-16.  (Cabins sleep 4 in bunk beds, but you can have up to 6 people per cabin site.)
RV sites according to your preferences.  They have Full Hookups (50/30 amps), Full Hookups (30 amps), and sites with water and electric, no sewer.
Reservations are very reasonably-priced and, if you cancel at least 48 hrs in advance, the cancellation fee is only $20.
Check-in time for the Mini-Cabins is 3:00 p.m.  For everyplace else it is noon.
Proposed Schedule of Activities:
FRIDAY
*  Afternoon:  Arrive and get settled.
*  Evening:  Meet up and ride the 4-mile paved trail into Kerrville for dinner (not included in the event price) at a local restaurant.  Ride back under an almost full moon.  (Actual full moon is Sat.)
SATURDAY
*  Morning:  Meet up for a breakfast prepared by Easy Street.  Get ourselves organized for the day.
The more adventuresome will head out to discover the unpaved trails within the Park; off-roading on a recumbent–exciting!
Others may choose to ride the approximately 5 miles of paved Park trails or … choose your own experience of Park or other local activities (we will have a list of suggestions)
*  approx. Noon:  Sandwich fixins will be available for lunch.  Those who are going on the Winery Tour probably want to clean up and get ready.  Exact pick-up time is not yet decided.  Those who are not choosing that option can get together and decide what they want to do individually or with each other.
Afternoon:  We have arranged to have Hill Country Wine Tours provide a 4.5 hour guided Winery Tour for those who so desire and who have paid the additional $185 as part of their registration on Bike Reg.  Our fun-loving group will be picked up at the Park in a Lincoln Town Car Limousine.  We will be visiting two exciting boutique wineries (wine tasting fees paid by Hill Country Wine Tours).  One of the wineries will pair food bites with wine selections.  Hill Country Wine Tours will provide a snack tray of assorted meats and cheeses at the other winery.  Bottled water will be provided in the limo throughout the tour.  (Mike Kasberg, owner of Hill Country Wine Tours, and his crew have received rave reviews.  I'm excited!)
And, if the Winery Tour does not appeal, further exploration of the Park, shopping in Kerrville, playing on the Guadalupe River, are all possibilities and we will provide a more complete list of suggestions as well.  If kayaking on the River appeals to you, I would make those arrangements in advance by calling Paddle Kerrville.
Evening:  We all join up and gather 'round the Easy Street grill for burgers, weenies, the 'fixins, and drinks.  We would ask you folks to bring potluck dishes to share, e.g. salads, beans, casseroles, vegies, desserts.  (The Dining Hall only has a couple of microwaves (no stove or oven), so keep that in mind.  We can also manage some space on the grill if needed.)  Easy Street will not be providing any alcohol, so plan accordingly!
We are thinking we will all have stories to tell about our day's adventures and what better way to do that than around dinner followed by a campfire.
If there is interest in a Tech Clinic by Mike, we can do that this evening or maybe Sunday morning after breakfast.
SUNDAY
*  Wake up to another Easy Street breakfast.  Visit.  There may be something you wanted to see or do that you did not yet get to.  We might squeeze in another organized ride, we'll see.  Check-out time is noon.
We are open to other ideas you might have about things to do.  Just share them with us.
We are asking for $35.00/person (less for children) for the weekend to help us re-coup some of our costs for the 3 meals and the Dining Hall rental, but MAINLY we want you to come!  So, I hope you will make your reservations, let me know who you are, and I will put you on a list of attendees and keep you posted as details are worked out.  culture@easystreetrecumbents.com