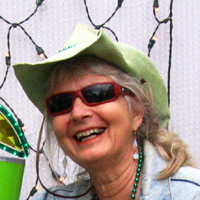 There are a couple of promotional events coming up and … if you'd like to come join us, socialize, show off your 'bent and talk to the uninitiated about how great they are, we would love to have you. 
Sun City Vendor Fair:  Friday, Sept. 15, 9:00 a.m. – 2:00 p.m. 
This is a fun event where vendors who have products and services to offer the Sun City Community show up and strut their stuff.  And, historically, it has been good for the shop.  And, it is really useful to have Easy Street customers show up.  The address is:  2 Texas Dr., Georgetown, TX  78633.  Click on this link for map and directions:  Sun City, Georgetown.
The 2017 Austin RV Super Sale:  Friday, Sept. 29 – Sunday, Oct. 1
We have wondered how to get the word out to more RV'ers about how recumbents could add to their lives; providing additional fun, exercise, and transportation while they are on the road.  So, we are going to give this a try.  It will be at the Dell Diamond.  Once again, we'd love to have you join us (admission is FREE) for some portion of the three days … they are going to be long!  One couple with an RV and 'bents has volunteered to join us on Saturday — for which we are grateful!  For additional information (like hours!), click the link:  Austin RV Super Sale
Do you have an RV?  Could you provide us with any pictures that show you and your 'bent(s) and your RV?  We would love to have them.  Email them to me:  culture@easystreetrecumbents.com