As of Feb. 13, 2019:
Alright … our SUPER nice contact at the Hampton Inn and Suites in Trophy Club has offered us a kindness.  Whereas, up until Feb. 12, you could click on the picture of the hotel and be linked directly to a special rate we worked out with them, that link has expired.  HOWEVER, Vickie is STILL willing to give you the special rate — you just need to call her directly on her cell phone number and she will take care of you.  That phone number is:  817-366-1731.  Just explain you are calling to reserve a room for The HOT.  She will know what you are talking about.  Any issues?  Just call me, Rebecca, at 512-789-4118 or 512-413-5919.
Travel from the Hotel:
For those staying at the Hampton Inn & Suites in Trophy Club, check out this route to and from the shop if you want to ride out from the hotel and get some extra miles in!
Trophy Club Ride (11.6 miles):  https://ridewithgps.com/routes/29307201
*************************************
Previously posted:
OH YAY!  I have reserved our "Hotties" a block of rooms in Trophy Club, about 20 mins from our HOT headquarters in Keller.    Click on the photo to go to a direct link where you will be able to make a room reservation at our special price.  You will also be able to see the rooms, tour the hotel, get directions, etc. etc.  We have blocked 30 rooms total, we will use a few for our sponsor reps, so don't wait too long to decide.  There are rooms with 2 queens and king bed suites.  Mike toured the hotel and our rep there is enthusiastic about having our group.
I also checked with the hotel about whether there would be any problem with our guests storing their trikes in their rooms.  No problem!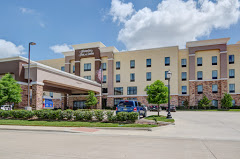 I think you will be pleased.  The hotel includes a substantial breakfast, free WiFi, and many other amenities as well.  The hotel does not have its own restaurant, however right across the street is a bar/restaurant called Breadwinners.  Perhaps we will see you there on Friday evening.
On a related note, they evidently have plans to break ground for a new location in Keller next fall.  That will certainly be handy when it is finally complete.  (I wish I could have found us something suitable within trike-riding distance this year, but that was just not possible.)
AND … if you are wishing to stay in your RV, there are a couple of RV parks near the hotel.  One of our guests seemed pleased with The Vineyards Campgrounds on Lake Grapevine.  It looks to be about 20 minutes away from The Hampton.  Our contact at The Hampton also mentioned the Northlake Village RV Park in Roanoke which looks as if it is about 10 minutes away from The Hampton.  If you are an RV'er and wish for fellow RV'ers who are attending the HOT to stay in the same park, I would encourage you to post a comment on this page.
ALRIGHT, I can cross one more thing off my HOT "To-Do" list.  YAY!  It may be just about time to get in the Xmas spirit.