Description
This trike is known, for some reason, as the "EZ-Tri Classic," which is a mouthful. They used to call it the EZ-3, and we still do.  It was even re-designed a few years ago, so it isn't exactly "classic."  Putting that aside, let's look at this spunky little dude.
The steel frame EZ-3 is a great trike for running around town. It is easy to get on and off of it, it turns tight turns, it sits your eyes up high but keeps your center of mass comfortably low, and it is cargo-ready for your grocery runs.
Delta
Unlike our other trikes, this is a "delta" style, with one wheel in front and two in back, while the more common"tadpole" style has two wheels in front. Which is better? That depends on what your are going to do with it, and it also depends on what you like the feel of. Some people really like having their handlebars in front of them, both for riding and for getting on and off. The ability to make direct comparisons between our trikes is the advantage to coming to a shop like ours where the range of choices is all in one room.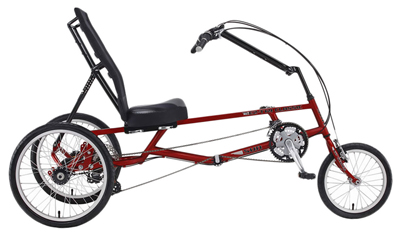 All of its transmission and brake fittings are standard, so while the stock parts are nothing fancy, you can upgrade them as you feel necessary.
Granny
While the EZ-3 costs more than your typical "granny trike" it is significantly better. It is significantly safer, if granny wants that.  It is way cheaper than fixing a broken hip, should granny take a turn the wrong way on her traditional upright "granny trike."  It offers a comfortably wide range of gears, much better braking, and a seat height that is neither too high nor too low. Pay more, get more.  The EZ-Tri is the real value in casual tricycling. Even granny will think so.
Our Price:  $1565
Sun Seeker says:
If riding a regular recumbent is easy and comfortable, then riding a recumbent trike is even better. With the EZ-Tri Classic recumbent trike, the rider gets the comfort and mechanical pedaling advantage along with the stability and confidence a trike brings. "I had good control while riding down the street. After the third time up and down the street I thought: Yeah baby, this is wonderful and I'm hooked!" exclaimed an excerpt from Recumbent & Tandem Rider Magazine. "All things considered, I do think the trike is a good value for anyone interested in riding for recreation, fitness, or commuting," said BentRider magazine, a publication devoted to recumbent bicycles. Try the EZ-Tri Classic for yourself and discover the wonderful world of recumbent trikes.
Boring technical specs from Sun Seeker follow, along with our interesting comments.
General specifications

Wheel Base     56.5″ (143cm)
Despite its length, the EZ-Tri will turn crazy tight due to the delta design.  This is a very maneuverable trike.  While this nimbleness lends it to sidewalk use, be aware that the spread of the wheels is behind you, and you don't want to drop one wheel off the curb.
Overall Length     72.8″ (185cm)
In case you need to knock down any walls in your house to get it inside.
Width     30.5″ (77.5cm)
Quite narrow as trikes go.  You can drive it through most doorways.
Seat Height     22″ (56cm)
Quite high.  Delta trikes have a stability advantage in that the spread of the rear wheels is closer to your center of mass, but they will still tip, especially on a fast downhill.
Frame     High Tensile Tig Welded Steel
Cheaper and heavier steel
Fork     High Tensile Steel
Weight     56 lbs
Heavy!  But this is a high-sitting trike using low-cost high-tensile steel.  Tadpole trikes weigh 30-45 pounds but sit lower.
Weight Limit     300 lbs
X-Seam     32″-48″
That is a pretty huge range of adjustment.  We've sized them even smaller using custom handlebars and cranks.  See our discussion of ex-seam length here.

Saddle     Contoured Foam w/Tri-colored top
Sun's seat is comparatively heavy but remarkably comfortable.
Seat Slide     Steel
Seat Back     Cool Back Adjustable w/Bottle Braze-ons
Features an adjustable lumbar curve and two more bottle cage mounts.

Component specifications

Bottom bracket:     Loose Ball 68mm
Cheap, but upgradeable if it starts to croak at you.
Crank     Alloy 170×48/38/28 (steel rings)
This crank is riveted together, so if you change to a shorter crankset we'd need to sell you new rings, which makes that upgrade more expensive.
F. Derailleur     Microshift
A brand you've never heard of, but it work well
R. Derailleur     Shimano
Shimano Tourney, a lower end group by this well-known Japanese component maker
Shifter     SRAM MRX
Basic quality grip-shifter
Freewheel     14-28 7 Speed
Brake Front     Promax Alloy Linear Pull
Brake Rear     Winzip Single Mech. Disc
"Winzip" sounds like something you'd use on your computer, but this is actually a pretty good economy brake. 
Brake Levers     Promax Alloy w/L.H. Lock
Locking lever on the front brake
Headset     1 1/8″ Steel
One of those parts most people never think about
Handlebar     Steel w/2 Bottle Braze-ons
Stem     Alloy 240mm Recumbent
Hub Front     B/O
???? Something generic. 
Hub Rear     Sealed Bearing Trike
The two rear hubs roll on an axle.  The drivetrain on a delta trike is more complicated, and often a bit noisy since the sealed bearings that the axle rolls on can shift under the weight of a heavier rider.  We go to extra work to mitigate this.  We even design a special tool to make the bearings seat better, but you'll still get some creaking.
Rim Front     16×1.75 28h Alloy
Rim Rear     20×1.75 36h Alloy
Spokes     14g. Stainless Steel
Tire Front     16×1.50 BW Kenda Kwest
Tire Rear     20×1.50 BW Kenda Kwest
Kwests are a no-frills street tire